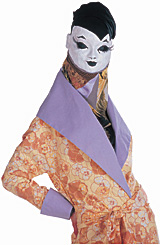 Coordination: Patrick De Muynck.
Stage: All stage
Light and Sound: Ampli
Music: Alain Benisti / Cristine
Make-up: Inge Grognard for Helena Rubinstein
Make-Up products and team: Helena Rubinstein
Grime: Linda Bastani and Team.
Hairstylists and hair products: L'Oreal
Modelling agencies: Vision - Dominique - New - Models Office - Vision - Network – IMM- Nine Daughters and a Stereo.
Press & PR: Flanders Fashion Institute - David Flamee. Special thanks to Soraya Al - Abed and Vicky Van Broeck, Arteveldehogeschool Gent
Bar: John Verrept - Het Zuiderterras. Special thanks to Bacardi-Martini/ Vittel-Perrier/ Coca-Cola Light/ Piper Heidseck/ Carpe Diem- Red-Bull.
Backstage coordination: Chris Ingelrelst, Yvette and team
Office Management: Mieke van den Broek
Choreography: Geert Bruloot
Casting: Patrick De Muynck
Graphic Design: Chris Gillis
Web Design: Emmy Mees
Coordination posters, invitations and programme: Chris Gillis, Nellie Nooren
Special thanks to Yvonne Dekock.
Pre-press: Fotogravure Godefroit
We dedicate the show to Hieron Pessers.
Web design by Emmy Mees (in cooperation with Chris Gillis)
This site is best viewed with the latest version of Internet Explorer (download) or Netscape (download) Flash Player (download) Quicktime Player (download)